Rea Valley Tractors (RVT), a trusted name in the agricultural machinery industry for nearly 40 years, is proud to announce that their commitment to offering top-tier, award-winning products has once again been validated. The renowned New Holland CR combine and alternative propulsion tractors, T7 Methane Power LNG and the T4 Electric Power, are set to receive prestigious Gold and Silver Awards at Agritechnica 2023 on the 12th November.
Agritechnica, one of the world's premier agricultural machinery exhibitions, is scheduled to take place this month. These Gold and Silver Awards represent the latest recognition of the New Holland CR combine and alternative propulsion tractors outstanding contributions to agricultural innovation and productivity.
The New Holland CR combine Gold Award is the only one to be allocated by the commission this year, and a fantastic way to launch the latest Twin Rotor™ technology. At Agritechnica New Holland will present the next generation flagship harvesting machine, a brand-new combine that builds on the success of the current CR line, topped by the Harvesting World Record holder, the CR10.90.
The new combine has been redeveloped to deliver the higher throughputs, reduce grain loss and add more automation demanded by tomorrow's farms. With brand-new styling the new CR can offer the lowest cracked grains on the market.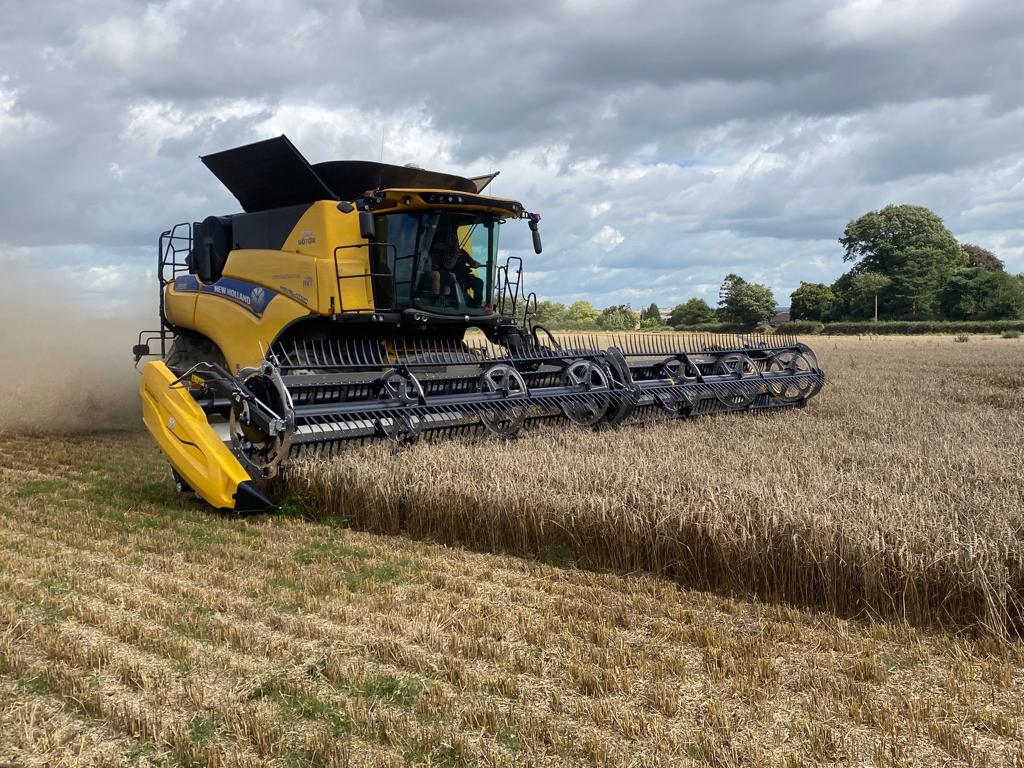 The New Holland T7 Methane Power LNG, a Silver Medal recipient, symbolises the future of methane and plays a vital role in achieving a sustainable circular economy. This innovative tractor by CNH Industrial boasts a fresh 'Clean Blue' colour and design, aligned with the brand's commitment to alternative fuels. Generating 270hp, it addresses the demand for high-power machinery while substantially reducing emissions and operational costs. Equipped with Precision Land Management solutions and ergonomic innovations, the T7 Methane Power LNG epitomizes New Holland's dedication to boosting productivity and sustainability, helping to reduce agriculture's carbon footprint and establishing energy-independent farm systems.
The New Holland T4 Electric Power tractor, recipient of the second Silver Medal for Innovation, marries emission-free energy with advanced autonomous technology. A cornerstone of New Holland's electrification strategy, it introduces the Utility Electric class, expanding their alternative energy portfolio with the T7 Methane Power LNG and the T6.180 Methane Power. Boasting 55kW of rated power, it outperforms diesel counterparts, providing superior torque and quick responses across speed ranges, enabling precise control with various implements and loaders. Ideal for mixed farms, hay, forage, livestock, dairy, municipalities, airports, orchards, and specialized applications, the tractor significantly reduces noise for livestock well-being and nocturnal municipal tasks.
Furthermore, it integrates cutting-edge autonomous features such as Follow Me Mode, Invisible Bucket, 360° Awareness, PTO Guardrail, and Route Mode, enhancing farming operations, precision, telematics, safety, and diagnostics. Designed to tackle contemporary farming challenges, including total cost ownership, labour shortages, and the dearth of skilled labour, the T4 Electric Power tractor offers a unique and innovative solution.
Rea Valley Tractors provide high-quality, cutting-edge machinery, tailored to meet the unique needs of local farmers and contractors across its territories in Shropshire, Cheshire, Staffordshire, North & Mid Wales and Lancashire. Their commitment to enhancing efficiency and productivity in the agricultural sector is exemplified by their selection of the New Holland machinery, renowned for its exceptional performance and advanced technology.
Matt Mulligan, Managing Director of Rea Valley Tractors (RVT), said: "For nearly four decades, RVT has cemented its role as a trusted partner for farmers and contractors in pursuit of cutting-edge machinery. As the agricultural landscape evolves, our unwavering mission is to provide the necessary resources and support for our customers.
"Our tractors and farm machinery, known for their versatility, extend beyond traditional agriculture, benefiting a spectrum of industries and activities that demand efficient, heavy-duty equipment. Central to our approach is recognising the shifting landscape of farming challenges, with productivity, sustainability, and the latest innovations taking precedence in our product portfolio. These DLG awards, reaffirm our commitment to equipping farmers, contractors and other businesses with the tools to excel in today's competitive agricultural arena."
The New combine will have a brand-new styling and it will be unveiled to the public on the first day of Agritechnica, on November 12 at 10am on the New Holland's booth (Hall 3, Stand A48)