Rea Valley Tractors were thrilled to present Brenig Hughes, a recent graduate of Harper Adams University, with the prestigious 2023 New Holland Agriculture award for Best BEng Hons Agricultural Engineering Student.
As part of CNH Industrial, New Holland Agriculture is committed to supporting and recognizing outstanding students in the field of agricultural engineering. Each year, they proudly award this trophy to a deserving Harper Adams graduate who has demonstrated exceptional skills and dedication throughout their BEng Agricultural Engineering course.
Brenig was raised on a beef and sheep farm and has always had a strong interest in farming. As a graduate, he has an exciting new role as a design engineer at LM Bateman, where they create animal handling systems and livestock farming equipment.
During this year's Harper Adams Graduation ceremony, Rea Valley Tractors Business Development Manager, Lauren Prall, had the honour of attending and presenting Brenig with the well-deserved trophy.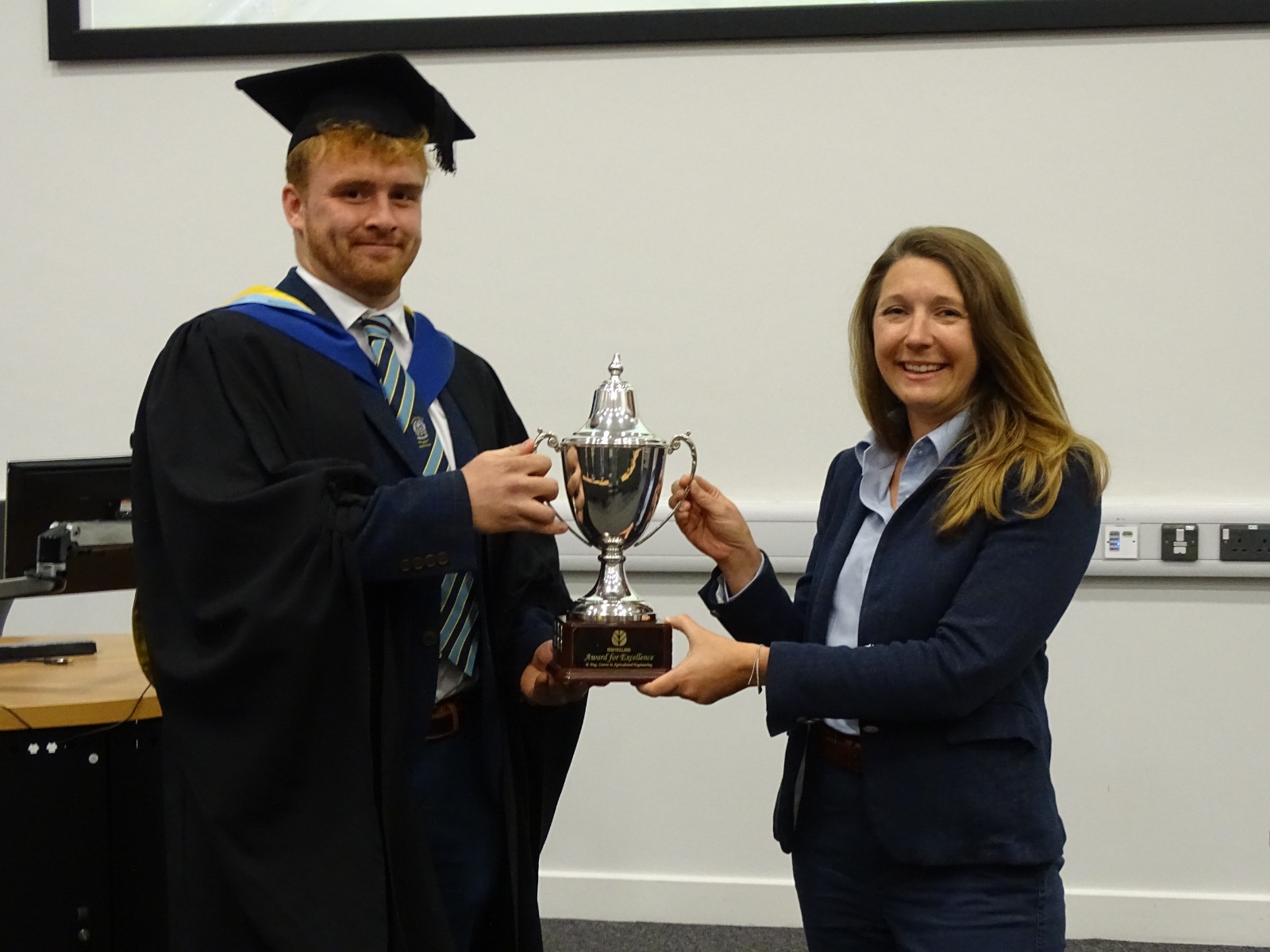 Graduates and their families had the opportunity to witness the latest innovation in farming technology – the New Holland T6 Methane tractor, which was on display outside the Harper Adams main building throughout the ceremonies and celebrations.
Graham Higginson, a Senior Engineering Lecturer at Harper Adams, shared his thoughts on the significance of the New Holland Agriculture Trophy. He emphasized that it recognizes not only exemplary academic achievement but also the student's overall performance across various modules, as well as their final year Honours Research Project.
Lauren Prall highlights why it's critical to engage with and support local communities "We recognise the importance of supporting future talent and encouraging young individuals like Brenig, to excel in their academic and professional pursuits. Through our ongoing relationship with Harper Adams University and the annual New Holland Agriculture trophy, we are proud to contribute to the growth and development of exceptional students in the field of agricultural engineering. Our commitment to community engagement and nurturing talent remains at the core of our company values".
"We extend our heartfelt congratulations to Brenig Hughes for his remarkable achievement and wish him great success in all his future endeavours. We also express our gratitude to Harper Adams University for providing a platform to recognize and foster talented individuals in the field of agricultural engineering."
For more information about Rea Valley Tractors commitment to community engagement and the range of New Holland agricultural machinery they offer, visit their website or contact the dealership directly.